Today is a great day for humankind! No, it's not the cure to cancer, the end of politics, or aliens from space being discovered in Albuquerque. No.
It's the release of Awful Intent. The next book in the Bad Penny series, with more white-knuckle action, crime, humor, and a little something to think about.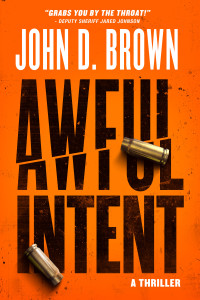 Frank's back. This time he's traveling through Southeastern Utah, enjoying the miles and miles of red-rock desert and wilderness when a man is murdered where nobody is supposed to see.
Except Frank does see.
He could turn his back, but as you know, turning isn't in Frank's nature. . .
The ebook is up on Amazon now.
It should appear on Nook, iTunes, Baen, etc. in the next few days. The paperback should appear on Amazon as well in about a week.
Here's what the beta readers are saying.
"WOW! Brown has outdone himself on this one. His books are always interesting and entertaining, but this one added a current twist to a captivating plot."
~SHERIFF GARY OGILVIE, RET.

"An engaging story about law and order in the west, complete with gun battles, aerial stunts and a hero just out for a hike."
~POLICE SERGEANT LOUISE SPETH

"Grabs you by the throat until the thrilling ending. All too true of what can happen in rural law enforcement."
~DEPUTY SHERIFF JARED JOHNSON
I had a blast writing this. I think you're going to enjoy it.
Sincerely,
John
EDIT: Nook and Kobo links are now live.
EDIT: Apple link is now live.
EDIT: Smashwords link is now live.