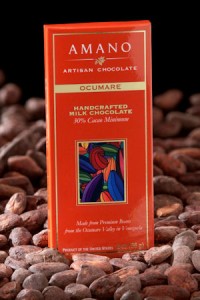 The first time I tasted real chocolate was when I was a teenager in Switzerland. Up until then, I'd only eaten American Hershey nastiness or the left over chocolates at my grandma's that she'd poked the bottoms out of and passed over. You know what I'm talking about: those yummy mystery fillings with weird chewy bits that make you wonder if the chocolates weren't designed by toddlers with too much food on their plates. As you can see, I didn't have a high opinion of the stuff.
But in the thin oxygen altitudes of the Swiss Alps, I lost my mind and let my sister convince me to try a big flat bar of Swiss milk chocolate with her. We broke off two little pieces. I prepared myself to yak, picked up my piece, and put the chunk in my mouth. She took a bite of hers, and we immediately looked at each other in surprise. We then proceeded to gobble the rest of that large bar and one other before we realized what we'd done. It was so smooth and creamy, so rich, so . . . hallelujah!
After the heavens closed and I came back to my body, I decided maybe chocolate wasn't such a bad thing after all. Still, nothing I could find in the States compared, and so the chocolate dream faded. Then I married a girl who came with a special IV that fed chocolate directly to her bloodstream. Needless to say, I've had plenty of opportunity to eat all manner of chocolate since then. I've even learned to appreciate dark chocolate.
I found that there is chocolate that you eat as a snack (chocolate biscotti with milk), chocolate that can make a meal (chocolate cheesecake with strawberries), and chocolate that's meant to be savored. We recently found one of the latter. And it's not a Swiss concoction. It's made in, of all places, Orem, Utah.
The company is called Amano Artisan Chocolate. According to the company's website: "In 1996 while on his honeymoon, the founder of Amano, Art Pollard decided that there had to be better chocolate than what was being produced in the United States or that of numerous imported varieties. Thus began his search for the ultimate chocolate, which is not bland or flat, but has superior flavor and texture."
Of course, my wife and I had to give it a try. I can report that it's lovely. I prefer the rich milk chocolates; she likes the darks. Again, this isn't chocolate meant for eating. It's chocolate meant for savoring. You want to take it slow. Let the taste linger and the secondary flavor notes have their moments. Besides, you won't need to devour it. My wife, who is about as hooked as any junkie, can get her daily fix of joy with just one little square. If you're a chocolate lover, you'll want to give it a try. You can order from their website at www.amanochocolate.com or visit their outlet store in Orem.
*
Because we live where we do, we have to travel two gazillion miles each year for shopping, movies, and to watch our kids play sports. After a few trips, burgers make me want to gag. Which is why I'm so happy I found a fabulous fast food soup and sandwich joint. It's called Jason's Deli.
No, it's not THAT kind of deli—one of those narrow little places full of weird smells and coolers displaying things not meant for human consumption. This is a soup and sandwich shop. Tall ceilings. Lots of tables. Yummy smells. And food that is reasonably priced and delicious.
I just dragged my wife to the one in Orem this last weekend. She got a Mediterranean Chicken on flatbread with hummus and loved it. I ordered my favorite, their California Club—sprouts, avocado, cheese, and tender meat on a flaky croissant. I always get it with the vegetable soup and fruit, which comes with a small bit of dipping yogurt. And if I'm really hungry, I get a piece of their strawberry shortcake made with real whip cream, not the canned stuff. When you tire of all the same old joints, go to Jason's Deli. They have locations in Layton, Salt Lake, Murray, and Orem. You can find addresses at www.jasonsdeli.com.
*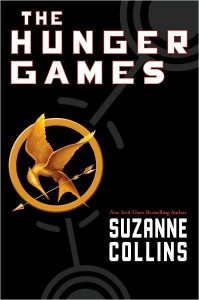 A week ago Friday, I brushed my teeth, sat down on my bed, and thought I'd read a chapter or two of a book and then go to sleep. At two o'clock a.m. when my wife came home, I was still reading. She got ready for bed. I moved into the bathroom and told myself I would read just one more chapter. Just one. At four o'clock a.m., I finished the book.
Folks, The Hunger Games by Suzanne Collins is delicious ride from start to finish. It's about sixteen-year-old Katniss Everdeen, who lives in a post-apocalyptic world in the country of Panem where North America once stood. In the book, the Hunger Games are an annual televised event where the government of Capitol chooses one boy and one girl from each conquered district to fight until only one is left alive. The games exist to remind the districts they have no hope of any rebellion. The problem is that Katniss' younger sister, who couldn't hurt a fly, gets chosen to fight. So Katniss volunteers to take her place. But Katniss' troubles only multiply. Not only are most of the other 23 fighters bigger than she, but they include a young man from her community who has been nothing but kind to her.
The book is written to young adults, but this is one of those stories like Twilight and Harry Potter that will please adults as well. It delivers moments of wonder, tenderness, and humor. There's a love subplot. But it's the poignant suspense that will literally prevent you from putting the book down.
I loved this book so much, I immediately read it again as an author to see how she pulled it off and found myself having an even more powerful experience the second time. It's a best-seller and is going to be made into a movie. But don't wait. I'm not. There are two more books in the series. And both are in the mail (thank you, Amazon). Here's to two more joyful (and sleepless) nights.