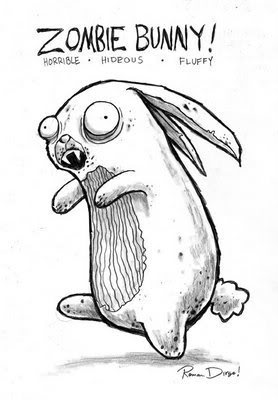 We are fast approaching one of the most important days of the year–April 1st. Not only is it an excellent day to have a birthday, it's also a good excuse to eat bunny cakes and torment loved ones.
So in the spirit of this fine day, please share some April Fool's gags so I may replicate. Last year's tape-the-sink-sprayer-in-the-on position was a hit (thank you Ms. Barlow). Mostly because I kept forgetting I'd taped it and sprayed myself a number of times. Doh!
Also here's the google of "bunny cake recipe." If you have one that you've tried and loved, please share. The most often used pattern in the Brown house results in a bunny like this one. Although I must say Eriks H's is entirely too happy. I'm feeling the need for a zombie or fantasy version. I've also moved away from frosting–too sweet. Now my cakes must be topped with real whip cream.