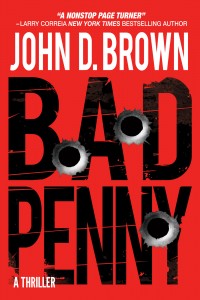 Boom, baby! Today is thriller day.
Frank's an ex-con, trying to go straight. Then an old cell mate shows up and . . . let's just say things go downhill from there. Throw in a Mormon, some drug lords, and a good helping of guns, and, man, was this book a blast to write!
You might be interested to know that this story was inspired by a fine old brother in my church in Ohio who was one of those salt-of-the-earth folks who also happened to have been at one time a bank robber.
When he got out of prison, he determined his life would change. He married a good Methodist girl he met at a church dance, went into the laundry business, and never looked back.
It was my privilege to record his life history. Not a single event or detail in the book is about him. But I can tell you that his story deserves a book. Hopefully, my character Frank ends up doing as well in life as he did.
The new release sale will run this week only. Same great prices as the last time.  Get 'em now while they're hot.
Bad Penny – Trade Paper (Amazon)
Hey, John! What about iTunes, Nook, Kobo, etc?
I've been working the last two weeks like a freaking elf from the North Pole trying to get these distribution channels set up, but the holidays seem to have stretched out the channel lead times.
So here's what you do: email me right now (click on my face in the sidebar) and tell me which platform you're interested in. When the book goes live on that platform (and that should be soon), I will set it at the new release price and email you with the news. It's that easy.
See how good I am to you? (grin)
A
Holiday
Side
Note
If you're lying around on the 24th and don't know what to do get the holiday spirit, please watch Merry Madagascar. It's short, you'll have a good time, and if you're not already a King Julien fan, you will be.
Have an awesome Christmas!
Sincerely,
John