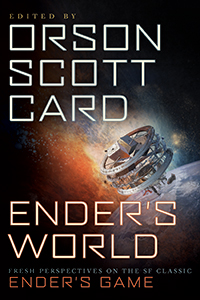 There's a special joy in sharing a wonderful experience with someone else. There's a delight in reliving the experience afterwards, in recalling key moments and quoting funny or cool lines. This is especially true of books. One of my favorite book experiences is Ender's Game. Which is why I'm so happy to announce that Smart Pop is about to release a collection of articles written by folks sharing their experience with that book.
You get to hear from Eric James Stone about how the book should have ended. You get to hear from Matt Nix (creator and producer of Burn Notice) how the book was a guide to his life. You get to hear from Colonel Tom Ruby why he made the book mandatory reading for the Air Force's Air Command and Staff College.
There are 11 other articles from Neal Shusterman, Captain John F. Schmitt U.S.M.C., Mary Robinette Kowal, Hilari Bell, Ken Scholes, Mette Ivie Harrison, and many others. There are Q&A sections. And there is Card's own introduction in which he explains what Ender's Game is really about for him. All of these articles are wonderful reads.
If you loved Ender's Game like I did, you're going to enjoy this book. You can get a free PDF excerpt from the book that includes a few of the Q&As from Card along with the full version of my essay "The Monster's Heart." To download the PDF, just scroll down to where it says "Sign Up for Free Chapters & Book Updates": http://www.smartpopbooks.com/book/enders-world.