The joy of music. Pure, unadulterated joy–this is what I recently stumbled across on YouTube.
I was watching the The Piano Guys and thought I saw something new from them. I clicked, but it wasn't The Piano Guys. It was Simply Three doing a cover version of the popular "Wake Me Up" by Avicii.
For those unfamiliar with the term, a "cover" or "cover version" is a reworking, updating, or interpretation of an existing song. And this cover simply blew me away.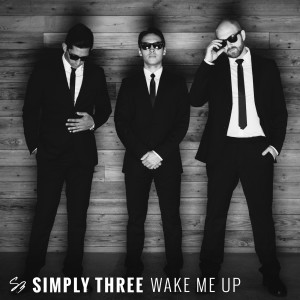 Simply Three is an electrifying trio made up of cellist Zack Clark, bassist Nicholas Villalobos, and violinist Glen McDaniel, although they have switched in other violinists, including Alex Weill and Olivia Lemmelin. But don't let the instruments fool you–this isn't some stuffy classical music gig. And it's not muzak in the elevator. Not even close.
They are doing what Lindsey Stirling and The Piano Guys are doing: taking modern songs in wonderful new directions and, in the process, making these classical instruments cool again.
I went on to watch a number of their other covers, and then I had to purchase the songs because I simply had to be able to listen to their great beats and interpretations on the road.
Here's their cover of "Wake Me Up." The joy Zack Clark (the cellist) exhibits sells the whole thing for me.
Here is their cover of "Demons" by Imagine Dragons.
And finally their cover of "Counting Stars" by OneRepublic.
If you like them, you can get each of these on Amazon for less than a buck with these links:
Buying them not only supports the artists, but it lets them know there's a demand for it and encourages them to make more. And I hope they make more.
***
By the way, "Counting Stars" has some interesting lyrics. Ryan Tedder, the songwriter, is a professed Christian. He grew up in a Charismatic household and graduated from Oral Roberts University.
However, you might look at some of the lyrics and think he's given all that faith up.
I feel something so right
Doing the wrong thing
I feel something so wrong
Doing the right thing
I could lie, could lie, could lie
Everything that kills me makes me feel alive
But you need to look at the lyrics in context of the rest of the song and the artist's statements about the song to see he's singing about something totally different.
Some poets, and songwriters are poets (song is where poetry lives these days), think being obscure is cool. Tedder follows that more obscure approach in this song, which is unlike the immediate clarity he put into the lyrics of the fantastic "Halo," performed by Beyonce, or his own OneRepublic's "Apologize."
Sometimes the artist writing gnomic lyrics doesn't want to pin down a message for the listener—they think it's cool for each person to make up their own message (I prefer clarity). Other times they do have a message, but they want the listener to work for it, and so they try to be subtle. Or sometimes they simply goof and don't realize their lyrics are being so vague.
I have no idea which path Tedder was trying to take with these lyrics, but I do know that he's made statements about the song. And these statements give us a guide.
In an interview with 5280, the Denver magazine (Denver is where Tedder lives) we get the first glimpse.
At 15, he began writing his own songs. "I obsessed over music and just loved it," Tedder says. "But I never considered it as a career. Where I grew up you go to high school, you go to college, you find a wife in college, you get married, you have 2.3 kids, and if that hasn't all happened by the time you're 24, some people think there's something wrong with you—or the assumption is that maybe you're not into the opposite sex."
But he couldn't keep away.
Back in Oklahoma, at Oral Roberts University, the largest charismatic Christian university in the world, Tedder majored in public relations and advertising. At least that's what his diploma says. Based on the time he put into sneaking into the Timko-Barton Performance Hall's piano rooms, he probably could have been a double major. He spent hours on the piano and the guitar deconstructing his favorite albums—like Eric Clapton and B.B. King's Riding with the King—figuring out the chords and then trying to write new songs using those same chords. He was skipping classes—even meals—to write songs.

No one knew. Not friends. Not his roommate. He sang in secret. He was in the school choir, but his friends always thought it was odd that a person who didn't seem overly musically inclined would be taking a singing class. When he was in one of the piano rooms he would tape a piece of notebook paper over the small window in the door so that no one could see him.

Tedder says there were two reasons he hid his passion. The first was that he believed there were so many bad singers and bad songs in the world that he didn't want to add to the noise. He wanted to be certain he would be successful before he revealed himself. The second reason was more deep-seated: Being raised in a religious home, Tedder had been taught that there was a purpose for his life, and that because God had ordained that purpose, he should live the life expected of him—one that was pious and humble. "Deciding you want to go into the music business is about the most narcissistic thing in the world," Tedder says. "I had this constant battle—and to some degree I still do."
So Tedder felt "wrong" about songwriting. But he eventually began to see it as his gift to share.
In an interview with Billboard magazine, we learn that he wants his OneRepublic to sing about different themes than the norm.
Billboard: Given "Counting Stars"' uplifting, faith-based message, it must be gratifying to be connecting with such a meaningful song.

Tedder: I think it's our responsibility as a band, and what separates us from everyone else. I took that from being a fan of U2 for two decades now, since "Achtung Baby." To this day, they might be the only band on that level who sings about things other than just boy-girl troubles or the kind of selfish, "I'm a badass" stuff. I've spoken with Bono about this when we toured with him, and he said the same thing. I felt a responsibility to actually write and sing about things that have a level of human gravity to them. If everybody else sings about sex and love and lust and money, then somebody's gotta be singing about life and faith and hope and things of that nature.
So if "Counting Stars" isn't about sex, lust, and money, what's it about?
In another interview with Radio.com, he indicated that the whole counting stars bit was for anyone who loses sleep wondering how they're going to be able to afford their rent or provide for their family. When he was first starting out, things were rough.
"A lot of time I just lay in bed awake, stressing out," Tedder said. "Everybody does it. And I just thought, I can't wait until I'm counting stars and not counting dollars anymore. Things will be so much better."
To me, it's clear that Tedder is singing about his story. And he's singing for people like him who have a passion, but society says it's not the practical thing to follow or dedicate your life to. Songwriting is what makes him feel alive. Furthermore, he had flashing signs indicating that if he sought, he would find—in other words, it was the thing God wanted him to do. And he just had to have hope, a four-letter word for those who are practical- and money-minded, and follow that passion.
We can argue the merits of that follow-your-passion message, but I think we're all happy Tedder followed his.
***
And while we're talking about the joy of music, how about this baritone saxophone and drum.