And, Dude! Will ya look at this thing.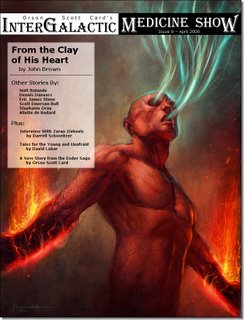 Read FROM THE CLAY OF HIS HEART at Orson Scott Card's Intergalatic Medicine Show.
Read the story behind the story on Side-Show Freaks in the coming month.
Then read more about Scott Altmann, the marvelous illustrator.
Born on Long Island, New York, Scott was never far from a drawing tool and a surface to make a mark. The early years consisted of funny-looking beasts and asymmetrical faces. Years later Scott attended the School of Visual Arts in Manhattan and graduated from the Illustration Department with his BFA.

He enjoys sushi, cerebral spelunking, playing guitar and painting in oils. He draws to escape, and tries to escape to draw. All other times he can be found with his wife and son, in Long Island, New York — laughing uncontrollably and causing mischief.