Why I got me a beef with Santa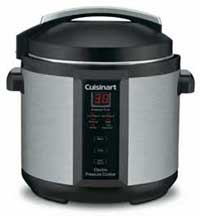 Okay, men. I'm going to share a secret. Maybe help you avoid my situation. Women love flowers. They love diamonds and other expensive bits of gravel you can't find out at the road pit. Some relish a backrub. Those are all good. But if your girlfriend, wife, mother, sister, or daughter likes to cook, well, you'd better watch out.
About two years ago, Santa brought my wife a Cuisinart six-quart electric pressure cooker (item CPC-600). Every time she takes that thing out, she talks about what a great gift that was, and how wonderful it is to be able to cook foods in 30% of the time it normally would take, and how pressure cooking is more nutritious because vitamins and minerals can't boil away. Foods stay moist and flavors stay true. Blah, blah, blah. Oh, how she loves Santa.
I have to admit, Santa was a genius for getting her that gift. But you don't mess with my girl. This year, if he comes around (you listening, Santa!), I'm going to be waiting with my gun.
For the rest of you, I suggest you go out and find yourself one of these before Santa tries to muscle in. Him and his ho-ho-ho. If you google it, you'll see it's only $80 bucks online. A small price to pay, let me tell you. And it lasts a heck of a lot longer than flowers.
Adventure Jam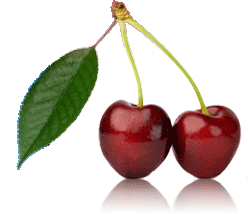 I'm one of those people who can't go to a restaurant and order the dish that I know is good. Nope, just before the waitress comes to take my order, a compulsion to try something new takes hold of me. Alas, three out of four times, the dish I order will taste like somebody cooked it in a shoe. I'm thinking my plan from now on should be to lock myself in the car and wait until my wife calls me and tells me that she's placed my order and the coast is clear.
Of course, that doesn't prevent me from buying things like kippers and kumquats at the grocery store. Nor does it prevent me from accepting strange gifts. For instance, this last week I was asked if I would like a six-sided bottle of Montmorency Tart Cherry Jam from Woodyatt Cherry Farms. I love cherries, but cherry jam, with big old cherries in it? And what's with the weird name and bottle?
But it was a gift from a fine friend, so how could I say no?
The next day I made toast and buttered it, and as I reached for the sure-fire delicious creamed honey, I was overcome by that maddening spirit of wild culinary adventure. So I pulled the six-sided bottle from the pantry instead, twisted off the white lid, and looked at the cherries crowded within. I drew back for a moment. What was I thinking?! The answer came: "Tart cherry jam, you wimp."
So I manned up and spread the jammed cherries on my toast. I took a bite, waited to be disappointed, but it was good. I took another bite.
Dang. It was real good.
That jar of zingy jam is now almost empty. But I can tell you I plan on getting some more.
If you're a bit adventurous and every now and again want something different but excellent, let me recommend this cherry jam to you. I couldn't find a website for Woodyatt Cherry Frams, but you can drop by at 7630 S. Highway 89, Willard, UT 84340 or call them at (435) 720-7366  and place an order.
Funny Family Movie
My wife and I took the kids out to the Cinefour theaters this last week. That's the three-dollar theater that's nice and clean in Logan, UT. We watched the animated Despicable Me. I know, it came out back in July, but who said I had to review things the minute they hit the market?
Gru, super villain, has his secret hideout in a happy suburban neighborhood. He's got everything a villain could want: a wicked jet-powered vehicle, freeze rays, and minions. But another villain has just upstaged him with a major heist in Egypt. So Gru decides make a bigger heist, the biggest in the history of the world—he's going to steal the moon. Sounds impossible, doesn't it? Ah, but he's going to use a shrink ray first. Then he can put the moon in his pocket. The problem is the upstaging villain takes the shrink ray. And the only way Gru can steal it back is with the help of three little orphan girls.
The movie is full of humor (I laughed so hard at one point that I missed a full minute of the movie) and fun action. The orphans and minions are wonderful. Toward the end there was one moment where a sob caught in my throat. (The things cartoons will do to you these days!) The movie is not going to win an Academy Award. But I can guarantee you it will give you and your kids two hours of excellent entertainment and a few funny lines that will enter your family vocabulary.
Brown's Shameless Commerce Section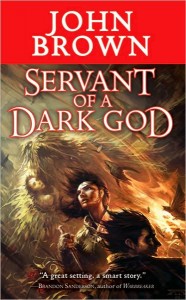 I know some of you are at a loss for what to get your teen or adult friend who likes fantasy stuff—dragons, magic, etc. It's not like you can just go buy them a pet monster or suit of armor. And there are soooo many books in the science fiction and fantasy section of the bookstore. So let me help you.
Servant of a Dark God was recently released in paperback (think inexpensive) and is the perfect stocking stuffer for readers who liked Lord of the Rings. Don't let the title scare you; the book won the Whitney Awards Best Novel of the Year in speculative fiction and has been getting excellent national reviews. And it just so happens that your humble reviewer is the author.
If you want to read the first chapters or find out more about the book, click on the Fiction part of the site. There are copies in Smith's, Macey's, Fresh Market, Raley's, and other grocery stores. Or you can order it from Barnes&Noble.com and Amazon.com and have it delivered to your door. Whoever receives it will thank you for the epic fantasy thrills.