The previews for The Secret Life of Walter Mitty didn't look interesting at all. Furthermore, I'm not the biggest Ben Stiller fan. He's a fine actor; I just haven't been in the audience for a lot of his movies. Then someone I know recommended the film, and I decided to give it a go with Nellie.
We didn't have high hopes. I mean, look at the movie poster. Does that get you excited? She thought it was going to be dumb. I thought it was going to be dumb. But after five minutes, we found ourselves enjoying the characters and story. We finished it, both of us absolutely delighted. I liked it so much I corralled my two daughters into watching it with me. Then I watched it again. I think I watched it four times total. And I enjoyed it as much, maybe more, each time.
Walter is a great guy who has had to play it safe and practical his whole life. When his and his co-worker's jobs are threatened, he takes action and finds himself on a journey that starts in, ta-dum, Greenland. The movie's got adventure, a slow-burn romance, and a cast of funny and quirky characters. But it isn't mad-cap humor. It's not a gushing love story. It's something else. Something that left me feeling like my life had been leavened with a fine light joy. Give it a shot; I think you'll be glad you did.
* * *
The previews for Non-Stop with Liam Neeson and Julianne Moore looked great. I'm happy to report that it was every bit as good as the previews promised.
Neeson plays a federal air marshal. While on a flight from New York to London, he gets a text telling him that unless 150 million dollars is transferred to an offshore account, someone will die every 20 minutes. But it's not so easy finding the killer. The deaths are almost inexplicable. And things soon start to spin out of control.
This movie is filled with surprises and suspense. And it moves. Thrillers normally move quickly, but this one was on turbo. But that doesn't mean the story was a bunch of light and noise. Quite the contrary. The writers skillfully balance the mystery, action, suspense, and even the character backstories. A lot of folks liked Taken. I liked this better than that film. In fact, it's one of the better thrillers I've seen these last few years.
* * *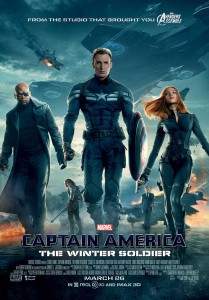 I'm a superhero lover, have been since I was a kid watching the Superfriends cartoon every Saturday morning. But I never know if I'm going to enjoy a superhero movie. I love the genre, but for some reason so many of the films go for effect over story. It drives me nuts. The movie ends, the lights turn on, and I sit in my seat and go "huh." So I'm happy to report that Captain America: The Winter Soldier actually delivers.
I cannot say the same for Captain America: The First Avenger, the first in this series. That movie fell apart halfway through the film. The beginning was this wonderful story about a runt trying to do his duty and volunteer. The second half lost all its heart and turned into one big yawn. So for those of you who didn't like that first film, know that this is a case of the sequel being far better than the original.
In this one, SHIELD, the organization that directs the Avengers, comes under attack from within. Captain America and Black Widow have to uncover who is behind it and stop them before it's too late. There are a lot of cool visuals and awesome action scenes. For example, I loved how Captain America "parachutes" into the opening mission. I enjoyed watching him and Black Widow fight in their distinctive ways. But the film didn't focus on the tech or the super powers. It focused on the characters and the story. The plot includes a number of delicious surprises and reveals. There are funny moments and some poignant ones. And not only did this movie, unlike the first one, develop a single story all the way through, but it also echoes with our current search for national security.
If you liked Iron Man and Iron Man 3, I think you'll enjoy Captain America: The Winter Soldier.