This is not a Democrat thing. This is not a Republican thing. This is a Budgeting for Morons 101 thing. I think anyone who is sent to Washington needs to pass a test. The test will have two questions.
Can you pass it?
Big Hairy Test
Question 1. Fill in the blank. Use your incredible subtraction skills to solve this equation: 2 – 5 = ?
Question 2. Short answer. Let's say you don't have enough money to purchase everything you want; what do you do?
Answers to Big Hairy Test
Question 1.
The answer would be -3 (yes with the little dash thingy in front of it). If you fail this, your name is taken off the ballot. I know it's harsh. You're a good person, but you're just too dumb to be trusted with my money. Please repeat the first grade and run for office again later.
Question 2.
If you say borrow the money, your head gets painted orange so everyone knows you have brains that operate on the same wattage as a citrus fruit.
If you say print the extra money, your head gets painted orange and then you go to jail for plotting to steal everyone else's money by devaluing it.
If you say, "Contact the Russians, they've got a source," we send you to Russia to work in Siberia digging rocks.
If you say, "But I had to spend more than I had because everyone else was doing it and they might be mean to me and not vote for my proposals," then we assign you to follow a colony of lemmings in the Norwegian tundra for seven years. It's okay. Lemmings are very cute.
The correct answer is you either (1) reprioritize, spending less on something else so you can spend more on the thing you really want, (2) eliminate waste in your operations so you have more to spend, or (3) go without, especially when it's not your money to begin with.  
A possible fourth answer is to go to the American people and make a business case for a new tax. The tax cannot be voted on until it has been presented to the American people, and they've been given 18 months to review the pros and cons.  You cannot use government funds for your dog and pony show to sell the tax. Then the people, NOT you or your cronies, vote on it. It must receive 70% of the popular vote in each state to pass. If it passes, the funds collected by that tax cannot be used for any other purpose than the one stated when it was passed.
Is this really that hard?
No, it's not hard, but it actually kind of is because the numbers that are reported are so big they don't mean anything. And the words are sometimes all mixed up. For example, is "deficit" the same as "debt"? When Congress says they're passing a bill to reduce the deficit, does that mean we're actually starting to pay down the debt?
The Romney people recently created a chart that makes the numbers immediately understandable. I love this chart. It's simple and straight to the point. Anyone can see what the current numbers show our very smart representatives in Washington are doing.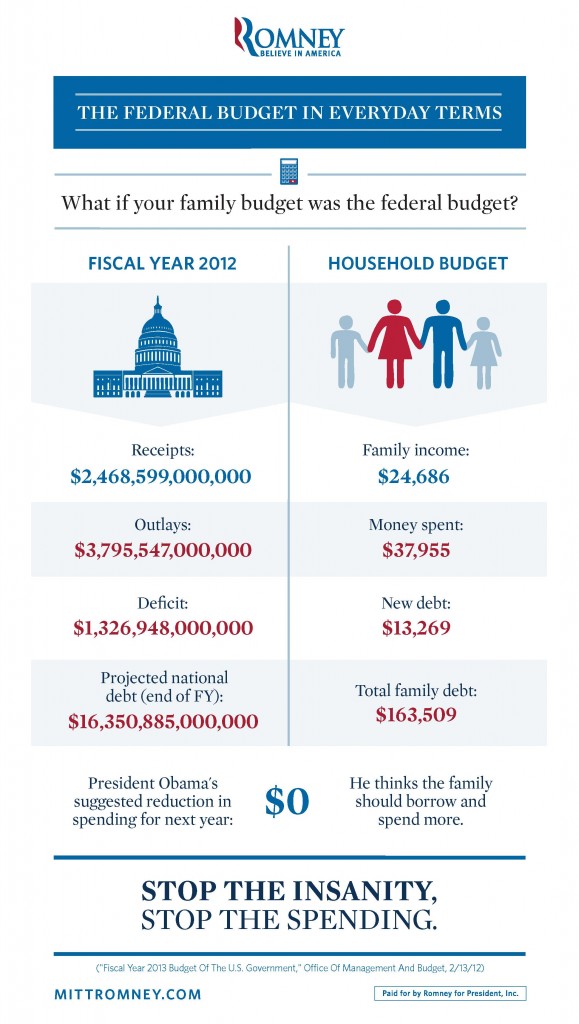 Our leaders have a MORAL responsibility not to spend more than they take in. I don't care what party they belong to–if they don't have the brains or the morals to use our money wisely, then they should not be able to play with it.
A Shocking Proposal: think like an accountant (horrors!)
Our leaders should not have the ability to raise tax rates or create new taxes. They have abused the priviledge of raising taxes on our behalf. They now should lose that priviledge completely. But the fact is they never should have had that duty in the first place.
Business learned this long ago. This is why it's standard procedure to separate duties. It is always a VASTLY DUMB idea to have the same person collect the money, deposit it, authorize payments, and make the payments. It INVITES fraud, abuse, and error.
It's clear that it's also an equally dumb idea to have the same people in government levy taxes and then spend that tax money.  But we knew that. The founders used the idea of separation of duties when they set up our government in the first place. They just called it "separation of powers" instead. The problem is we didn't separate the duties enough.
Our leaders should NOT have the power to levy taxes on us AND spend our money. We need to separate the duties, reserving the duty of establishing taxes to the people. If our representatives have a really nifty idea they want a tax for, they need to take the business case to the American people as described in answer four to question two in the Big Hairy Test above. And the American people can then vote on it.
And now I'm off to Lowe's to purchase some orange paint.