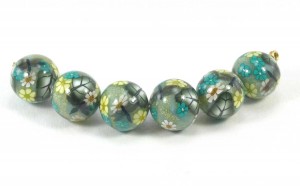 Yes, you read that right. Valerie Moore, an Arizonan bead maker, read the book and loved it. After coming to the Poisoned Pen signing, she was inspired with a new bead design that she calls "The Grove," after the Grove of Hismayas.
She says, "I like when other people's work speaks to me and I can release it in my form of art (which happens often enough through books or music). . . The Grove is a design, inspired by your work, made from polymer clay and 22k gold. The colors and design evoke a sense of depth, much like The Grove in Servant of A Dark God. It runs deep and true; like a network of roots. Earthy, deep and calm is what they "feel" like to me. The gold glints out like the sparkling of a soul, pure and shining and as yet untarnished. And in a way, think of the dragonfly "zinging" around. 😉 It must have gotten some funny cookies to eat."
I say "hear, hear!" to funny cookies! I'm so stoked my story inspired her. I think the beads look great. More importantly, so do my girls, who are true bead heads (we dropped $50 on Black Friday at a bead shop, ack!). Check it out. If you want some for yourself, you can get them online.