The Best Vocal Show Currently Running

We are now two weeks into the third season of NBC's The Sing-Off, and it's going to be just as good as last year's or better.  It airs for the next few weeks on Mondays from 7-9 p.m. Mountain. But you can catch the performances on the site http://www.nbc.com/sing-off/ if you miss them.
According to the site, "The show scours the country in search of the best a cappella groups, ranging in various sizes and ages. This year, the competition has expanded to the 16 very best groups, who will perform popular songs in weekly competitions, which will culminate with a live finale revealing the grand-prize winner. The groups will be competing for America's vote and a chance to walk away with the ultimate prize – a Sony Music recording contract and $200,000."
There are a lot of great groups this year, including Vocal Point from BYU and the University of Rochester Yellow Jackets, who both nailed their second songs this week–"The Way You Look Tonight" by Fred Astaire and "Can't Take My Eyes Off You" by Frankie Valli. These guys were sooooo good. Delilah, an all-girl group, wowed with their week one performance of "Grenade" by Bruno Marks. A number of the other 16 groups are spectacular, but there's not enough time to list all the wonderful performances.
This is the best vocal show on TV right now. The judges and host, who are all successful singers themselves, give interesting feedback, even if they sprinkle it with too many mild expletives for my taste. Tune in and enjoy.
3 Reliable Men
For almost a year now I've been trying to find somebody, ANYBODY, to come and fix some issues with my house. We had a leak in the roof, a leak through a window, and an exterior French door that was never hung right and gaped open at the top, especially when we had a strong north wind blowing at us in the winter. Lovely Wife had to take to stuffing the gap with a towel.
So I called a number of local construction guys. I called folks in Evanston, Wyoming and Logan, Utah, and it boggled my mind how many promised to drop by but never showed up, or came by but never followed through. I was happy to pay good money. But contractor after contractor after contractor shined me.
Then I ran onto three guys who made promises they could keep, showed up, followed through, did an excellent job, and did it quickly.
Ryan Hoth of Hoth Boys Construction in Logan, UT, recommended to me by Burton Lumber in Logan, does framing, concrete, and general contracting. Ryan personally fixed the troublesome French door with a very creative and simple solution that I wouldn't have come up with in a million years. Hoth's number is 435-994-0169.
Todd Bohman of Valley Trades in Logan, UT, which does siding and windows, came up and assessed, then sent one of his crew to fix our window/siding issue. The crewman not only worked expertly and quickly, but he fixed a piece of siding another contractor had broken without being prompted. Bohman's number is 435-752-7642.
Keith Homer of Homer Roofing in Logan, UT, not only assessed our issue, but steered us towards a fix that cut the amount of money we would have to pay him. He gave up revenue we were willing to pay because it was the right thing to do. Homer's number is 435-787-0910.
If I ever need any construction, siding, window, or roofing services, you can be sure I'll be calling these guys first. 
Valkyrie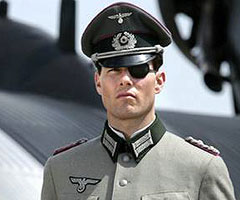 I love a number of movies Tom Cruise stars in. The stories are usually strong, and Cruise is a great actor. Nellie and I recently watched and enjoyed Knight and Day, a hilarious romantic action comedy with Cameron Diaz. We enjoyed him in Collateral, a thriller where a cab driver gets shanghaied to drive for a contract killer, and fights to save himself and the last victim. I loved him in Minority Report, Last Samurai, and Far & Away. In Valkyrie, Cruise stars as Claus von Stauffenberg, a colonel in the German army who attempts to assassinate Hitler.
The movie is based on a true story, and dramatizes just one of many attempts those who disagreed with Hitler made to remove the despot from power. It shows just how close they came. The story is full of suspense and, ultimately, heartache.
This is a movie to make you think. It's also a great introduction to the history of WW2 Germany that's often missed. According to a number of top WW2 historians, the film is accurate.
If you're in the mood for a suspenseful serious film, I think you'll love this one. And when you're done, you'll ponder on the meaning of courage.