Sometimes words fail me…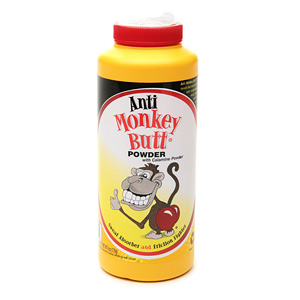 With Calamine Powder

Sweat Absorber and Friction Fighter

Anti Monkey Butt® Powder is specially formulated to absorb sweat and minimize frictional skin discomfort. Helps to keep you dry and comfortable. Ideal for butt busting activities such as motorcycling, bicycling, horseback riding, truck driving, hiking, hockey, football, and baseball.

Indoors or outdoors, work or play, or on occasions when you sit on your butt all day. Don't let your buns get red. Use Anti Monkey Butt ® Powder instead!