The Amazing Spider-man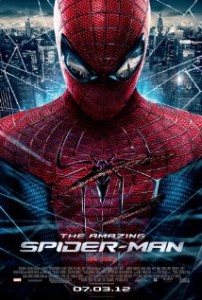 The Amazing Spider-man is one of the most enjoyable superhero movies I've seen in the last ten, heck, fifteen years.  It rocks.
Is it as good as any in Christopher Nolan's Batman series? Yes, but it never becomes dark.  And in many ways I think it might be better.
How about Iron Man? Oh, yeah.  Not as witty, but just as funny.
Sherlock Holmes?  Spiderman 2?  Yes and yes. And I don't care what you say, Sherlock Holmes is a superhero.  He can't bend metal with his mind, but almost. He's certainly as much a superhero as, say, Black Widow.
What made this Spider-man so good?
The story tells the story of how Peter Parker becomes Spider-man.  I know, we've seen it before, but unlike other superhero movies, this one, like Iron Man and Sherlock Holmes, actually chooses more realism and less cartoon.  There were so many unexpected real moments and details that I couldn't help but believe.  There were Parker's boxers hanging out when he gets beat up, his reactions when he's trying to find his hero outfit, and the fact that he performs his derring-do while toting about a teen's most trusted gear–a backpack and cell phone!  He fails at many things, just like a teen would in this situation, which is so refreshing–this is not yet another all-powerful superhero!  
Like so many superhero movies, this one features another mad scientist with mad science.  It's still the stuff of comic books after all. But what I really enjoyed were the moments of comedy, the delightful romance, and the fact that Spider-man is way more vulnerable than I've ever seen him portrayed.  The movie kept delivering pleasant surprise after pleasant surprise.  Towards the end, it all works together to honestly earn a swell of emotion in a scene which I won't reveal here and spoil for you.  
Just know that if you want to see a movie full of action, drama, and fun, you'll want to watch this one.
The Dark Knight Rises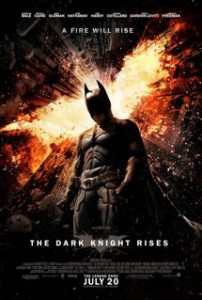 I have been looking forward to the last Christopher Nolan Batman for quite some time, and The Dark Knight Rises delivers. 
After taking the fall in the last movie for Harvey Dent, Batman/Bruce Wayne goes into reclusive retirement.  But we all know what happens when you stop minding the wheel.  A new villain shows up named Bane, and very soon Gotham is reeling.  Which means Batman needs to come back.  But Batman ain't the Batman he used to be.
This Batman and the recent Spider-man have taught me that I enjoy heroes that can be beaten soundly.  I like heroes that can and do lose.  They are so much more interesting than those who always seem to pull it out. 
There's a lot of cool action in this movie.  Batman has a cool new toy.  There are a number of well-executed plot twists.  And I think I enjoyed the slow reveal of Bane's back story about as much or more than I have for any villain.  But I think my favorite part is at the end when Batman makes his sacrifice.  I know the movie had to end as it does, but I almost wish we didn't have the last five minutes because it undermined that incredibly powerful note for me.  Yes, I'm being intentionally obscure to avoid spoilers.  Whether you agree with me or like the movie with the last five minutes added on (as my wife did), if you like big action flicks, you don't want to miss this one.
Downton Abbey season 2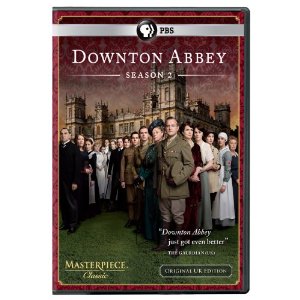 About nine months ago I reviewed Downton Abbey, a BBC miniseries that aired on PBS. The first season is set in the fictional Downton Abbey and follows the lives of the aristocratic Crawley family and their servants. The stories take place over the time period that starts with the sinking of the Titanic in April 1912 to the outbreak of the First World War on 4 August 1914.
The main story line running through those episodes is the fact that the Crawley family must give up the estate to a distant relation because they have no male heir.  But it wasn't just about the aristocrats.  One of the most delightful aspects of the series is that it also featured the refreshing stories of various servants. Some were funny. Some pulled at your heart strings. Some were tragic.
Well, Downton is back with a second season that you can get on Netflix if you missed it on PBS. The events span the first world war. Some of those we met in season one go to war; some stay at the estate.  Other new folks mix in.  What's constant is that the wonderful storytelling continues.  As a family, we enjoyed all of the characters, but I must say that Maggie Smith (who played Professor McGonagall in the Harry Potter series) seems to get a majority of the best lines as the Dowager Countess.  We looked forward to every minute she was on the screen. 
This is a fabulous series.  If you like Pride & Prejudice or Cranford, you will love watching the stories of Downton Abbey.
Brave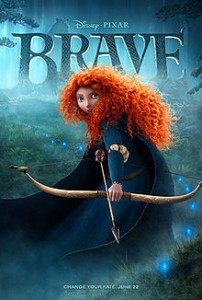 I'm just about out of time, but let me just say that if you're looking for an enjoyable family movie, you need to watch Brave.  It's set in the highlands of Scotland in the 10th century and tells the story of Princess Merida who doesn't want to marry, even if it means war with the other clans.  To change her mother's mind, Merida turns to a witch for a potion.  Of course, potions never go well, do they, and the kingdom and lives of those Merida loves are soon put at stake.  The movie focuses on the mother and daughter, with the father providing comic relief.  There are plenty of laffs, some parts that will put younger viewers on the edge of their seats, and a wise message for parents and children alike.