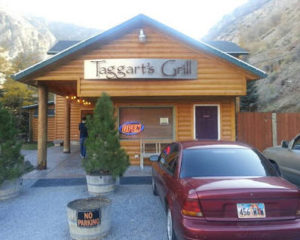 Most of the time when you go to hole-in-the-wall restaurant, it's a hole-in-the-wall.
But sometimes you strike gold.
And my youngest daughter and I struck big-time gold last week two miles east of Morgan, Utah, in the canyon between Morgan and Henefer off of exit 108. I've driven that stretch many times and never knew anything was off that exit. Literally, if you blink, you'll think nothing is there.
But if you do, you will miss out on Taggart's Grill.
It's nestled in some trees up against the northern slope. The first thing that strikes you when you get out of the car is the delicious aroma. Then you notice the peacocks running about. And then you enter the diner and see a display case of tantalizing, large desserts such as cheesecake, carrot cake, and huge pink-frosted cookies.
The diner itself has a wonderful airy feeling with a high ceiling and lots of windows that offer views of the grove and garden surrounding the diner. There are seats outside in an area with a small waterfall. But we sat inside with the walls of log-cabin wood and the stained glass panels hanging in the windows.
They serve a variety of dishes from sandwiches and soups to pizza, burgers, and fancy plates of salmon or tenderloin. And while the views and setting is awesome, the food is where they really shine.
The beef stew was thick and amazing. The battered fries perfect. The sandwiches were wrapped in thick and soft flat bread that was delicious. And speaking of bread, they asked if I wanted a roll with the stew. I said yes. They didn't bring out a roll–they brought out a small loaf of what appeared to be freshly baked bread. We of course had to try one of the desserts and opted for the
carrot cake. It was lovely with a hint of almond in the cream cheese frosting.
The portions were huge and so we took enough home for another meal for three.
We're going back.
I want to try one of their burgers, the halibut, and the BLT.
If you like great food at a great price and are anywhere near Morgan, don't blink at exit 108. Just pull off and enjoy an awesome meal.
*
Parents of Rich Middle School students, what if I told you that researchers have uncovered a secret activity that teens enjoy that has the side benefit of actually raising their grades in all of their classes.
But that's not all. This one secret thing will help them get better jobs years in the future.
It will help them make more money.
And they won't even know that it's doing this for them. They won't care. Because they won't be doing it for the grades or money. They'll be doing it for the enjoyment it brings. They'll be doing it just because they like to do it.
One little surprising thing.
And it's backed up by lots and lots of research.
Do you want to know what this activity is?
Do you want to open up opportunities for your child?
If you do, come to the meeting Mrs. Brown is having at 7:00 p.m. on Wednesday, October 12 at the Rich Middle School.
We will reveal all there.