If you feel a bit lost or anxious about how to teach narrative for the new core, especially stories, I think I can help.
I'm an educator in the private sector and an award-winning novelist and short story writer. I've been teaching authors in various venues how to write for the last five years. I've been on writing podcasts with thousands of listeners, taught at a number of writers conventions, and had a series of articles published by the national Science Fiction and Fantasy Writers of America organization, an organization for professional authors. I've also been helping Nellie, my wonderful wife, teach her 7th and 8th grade language arts students the unit on short stories during that same period. We've taught it to twenty different classes and picked up a number of important insights along the way.
This last year I couldn't help but examine all the materials Nellie brought home during the district's writing program adoption investigations. Some programs looked very promising; others not so much. Some got some things about writing flat out wrong. Most of the programs had gaps.
Furthermore, because I work with so many people wanting to write, I know that it's difficult to teach if you really don't understand what stories really are and how they work. For lots of people, the subject matter can seem impenetrable. And yet writing stories is such a wonderful way to teach writing, especially because so many kids love it. You won't find a kid who will spend extra hours writing a business letter or poem analysis, but you will find quite a few who will go crazy writing stories. And the whole time they're practicing their writing skills.
The question is how DO you write a story?
What is a story?
How can you tell if it's good?
How do you come up with ideas?
Where do you start?
And what the heck is this chart? Do writers really use this? (Not many that I know.)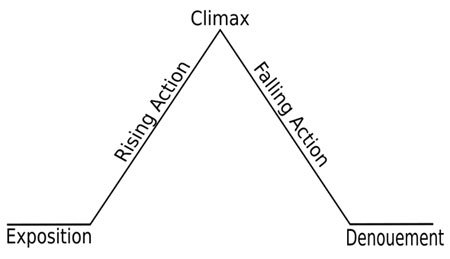 And does anyone think changing the diagram to look like Aspen, Colorado actually helps?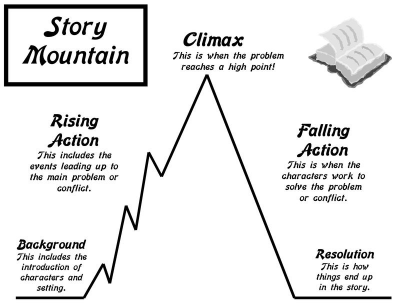 Hey, students—please make your story look like Aspen, Colorado!  (Yeah, that's going to be effective.)
And yet it's not as difficult as it appears. Nellie and I have seen a lot of kids really get into writing stories. We've seen kids WILLINGLY going way beyond the assignment to write stories that are eight, twelve, twenty-five plus pages. And as they're writing, they're practicing grammar, spelling, structure, vocabulary, etc. without knowing it and having a great time. I know that if you enable your students, many of them will write, write, write. Especially in grade school. But also in the higher grades.
Stories can be a blast. The assignments can connect to many students. And the results can be wonderful. I've laughed out loud at some of the stories coming out of Nellie's class. Others have been enjoyable on other levels.
But for this to work in your class, you need to know some key things. You need to understand the core of story and the story development process. You need a lesson plan that details everything step-by-step so your students don't flounder. And you need to know some fundamental tips (secrets?) about teaching this content.
So I'm going to hold this day-long class for you. A full eight hours. And share everything Nellie and I have learned. This class will be for teachers at ALL levels (I'll show you some ways to scale the complexity of what you're doing). There will be NO cost. The only thing you have to bring is a pencil, paper, whatever program materials you have, and a willingness to have a good time.
When we finish, you will know how to write a simple story like the ones your students will write because, ta-dum, you will write one! AND you'll have a step-by-step lesson plan that builds on whatever materials you have—an official program or one of your own. AND you'll understand story better than 99% of the population. AND you'll have a bundle of techniques to help your students. AND you'll solve both world peace and maybe the lost sock conundrum.
Truly, I think that instead of feeling stress, you'll actually be looking forward to teaching and writing stories with your students. If not, you may bring tomatoes and huck them at me, but please be aware that I will not stand still; to find satisfaction, you will have to be able to hit a moving target.
If you're interested, just click the Contact John link under my photo in the left sidebar and send me an email letting me know.
Hope to see you in class!
GET READY FOR A FUN DAY OF LEARNING!
Topic: Teaching writing (narrative & the common core)
Who: Teachers (and writers at least 18 years old), seats are limited
When: Monday, July 29th, 8:15 AM – 5:00 PM
Where: Rich Middle School, 54 E 100 S  Laketown, UT 84038
Materials you need to bring:
Pencil
Paper
The writing program you'll be using this year
Kooky socks, for those who cannot resist the urge
A lunch or a way to get one
AGENDA
8:15 AM Arrive
8:30 AM – 9:20 AM
Can you create a redneck crapper?
The 1st secret to teaching writing: Attributes & techniques
The 5 parts of story
Thieves prosper – using existing patterns
A car, a beggar, and an idiot — basic pattern 1
9:30 AM – 10:20 AM
The 2nd secret to teaching writing: Do it with them
Technique: Sketch then draft
Workshop 1: Zombies and kisses
Technique: Zing hunting
Workshop 2: Hunt zing
10:30 – 11:20
What makes a story big or small
Workshop 3: Select a right-sized THOM and character
Workshop 4: Select a Goal
Workshop 5: Make character sympathetic
Workshop 6: 3 tries
Workshop 7: Resolution
LUNCH
12:00 – 12:50
The 3rd secret to teaching writing: Cognitive modeling and the 6-step process
The 4th secret to teaching writing: Our tiny brains
Writing is telling: Narrative & description
Technique: Yes, SiR
Technique: Broad-brush + 1
Technique: The Pause
1:00 – 1:50
The 5th secret to teaching writing: Have fun
Workshop 8: Write your story
2:00  – 2:50
How the pros revise—concept, line, & copy
Workshop 9: Content edit
The 6th secret to teaching writing: Our brains are still tiny
Workshop 10: Line edit
3:00 – 3:50
The 7th secret to teaching writing: The 3 grunts (responding to a story and grading)
Share stories
What the heck did we just do?
4:00 – 4:50
How to adjust for grade level
Common core
Your program and lesson plan
Identify black holes
Wrap up & next steps