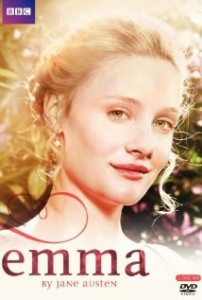 You read some reviewers because they regularly set you back in your chair with keen insight. You read others because their phrasing and voice are so delightful that you find yourself unable not to read, even when they venture forth into exciting areas like soup cans and lug nuts. I, alas, fear I cannot occupy either role when I tell you about the BBC's 2009 mini-series production of Jane Austen's Emma.
I cannot because have no keen insight into acting or film-making or film adaptations. I am not an expert on the late 18th and early 19th century England.  I am not an Austen junkie (although you can be sure I intend to become one shortly).
Surely, as a writer, I could come up with some kind of amazing assessment. But I cannot because I am speechless. I am filled with a fine joy. I have spent nearly four hours with my wife and two of my lovely daughters watching a delightful tale unfold about the fates of a number of characters–some foolish, some arrogant, some quirky, but most of them splendidly human and noble.
This. THIS is what I go to story for. To be transported. To laugh. To cry. To hope and fear and feel suspense for another.  To spend time with wonderful characters.  To have lived just a little more while under the story's sway.
Gush, gush, gush.
Such an unmanly thing to do. But to hell with that. I am a man who loves Jane Austen and shoot 'em up thrillers both.
And if you enjoy Cranford or Pride & Prejudice or Downton Abbey, then you will love this production of Emma too. You will want to own it.
Romola Garai plays the star role of Emma. I enjoyed every minute she was on the screen. I didn't know who she was, but it appears she was in the 2006 Amazing Grace with Ioan Gruffudd. I might have to watch that one again just to see more of her work. Mr. Knightly, Emma's lifelong friend, is played by Jonny Lee Miller who starred in Eli Stone, one of my favorite TV series. I loved watching every minute with him equally as well. There were some other familiar British actors; and more I hadn't seen before. I thought they all did an excellent job.
As for the story, it's about Emma, who believes she has an amazing ability at match making and prognosticating and very soon runs into to trouble because of it. It's also about kindness, and generosity, and, most of all, love. Of so many varieties.
If you're wondering what to watch this next week, order this one now.