Child Migrants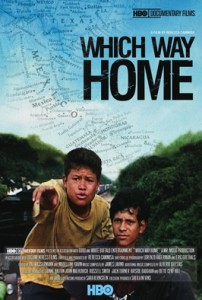 Each year, thousands of Latin Americans travel hundreds of miles, hoping to enter the United States illegally. About five percent of those attempting to make the journey are children traveling alone, often on the tops of freight trains. Some of these children are in their teens. Some are as young as eight or nine.
Some of them have had relatives (in their home country or in the U.S.) pay smugglers to bring them in. Others try to make it on their own. Some do make it across. Others are caught and deported in the U.S. or by the Mexican authorities. Others simply vanish or perish along the way.
The eye-opening documentary Which Way Home follows a number of these unaccompanied child migrants on their journey through Mexico as they try to reach the United States.
There's Olga and Freddy, nine-year old Hondurans. Olga is trying to reach her mother and sisters in Minnesota. Freddy wants to be reunited with his father.
There's fourteen-year old Jairo who was forced to live on the streets of Chiapas after his mother was killed. He wants an education but is too poor. So he thinks if he gets to Laredo, Texas, he can get a job, earn money, and come back to hire a tutor.
There's thirteen-year old Fito from Honduras whose mother abandoned him when he was very young. He lives with his impoverished grandmother, who has a job making cigars. He's traveling to the U.S. to look for work and hopes to be adopted.
Then there's the thirteen-year old Eloy and his 16-year old cousin Rosario whose bodies were found in the desert.
This film doesn't propose any solutions or argue for or against immigration. It simply documents what's happening. Anyone who has any interest at all in the issue will find this movie both fascinating and troubling. In fact, I think the whole family could watch this. For those who are concerned about language, there is one brief exchange where the one of the boys uses some high-grade curses. However, I wouldn't let that hinder you. You can discuss it or easily fast forward those few seconds. These are just people. Don't let a few foibles prevent you from learning about their plight.
One of the best movies of 2010
Maybe you're one of the few, like me, who didn't see Tangled when it first came out. If so, you're in for a treat. This is a great story about a girl whose mother, the queen, almost died giving birth to her. The magic used to save the mother and girl transferred into the child's hair and gives her power to heal. Or to restore beauty and youth.
And that's too tempting for some. The princess is kidnapped by a woman who wants to maintain her youth. But this villainess doesn't play the role of the bad guy. No, she plays the role of the loving mother, locking Rapunzel away in a tower to "protect her," duping her into thinking she really is her mother and really cares. 
It works for a number of years until Flynn Rider, a wanted thief running from the authorities, stumbles across Rapunzel's tower. When he tries to take refuge, Rapunzel freaks, and then sees that Flynn just might be her ticket out. Of course, when the villainess returns and finds Rapunzel gone, she's vows to lock Rapunzel up where nobody can find her. Unfortunately, poor Rapunzel has no clue what her "mother" really is—it's hard to fight a villainess when you think she's on your side.
The animation is marvelous. The characters are fun. And the villainess is unlike any we've seen in a Disney film before. I recommend this film highly. I know I'll be seeing it again. 
Soup Heaven
There's nothing like an excellent soup and sandwich. And since my wife and a friend both raved about Cafe Zupas, I decided to give it a try.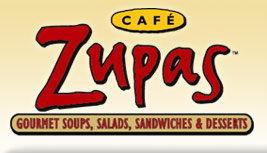 My first problem when I stood looking at the menu was that there were ten soups listed and they all sounded wonderful. There was Tomato Basil with Orzo Pasta, New England Clam Chowder, Thai Lobster Curry, Wild Mushroom Bisque, Yucatan Chicken Tortilla and five others. My second problem was that there were just as many delicious-sounding sandwiches to choose from, all grilled "panini style" on Italian Ciabatta bread. Should I get the Honey Bacon Club, Hawaiian Barbeque Chicken, Milano (ham, tomatoes, and pesto), or one of four others? And then there was a salad menu as well.
Oye!
I ended up ordering the turkey cranberry sandwich and a bowl of both the Thai Lobster Curry and the Tuscan White Bean and Vegetable. The staff was friendly. They served up my food quickly, and I sat down at a booth hoping I hadn't just wasted my money.
That fear was resolved with the first two sips. It was heaven. I oohed and aahed all the way through the meal until the last bite of the chocolate-dipped strawberry that comes with each sandwich. I cannot wait to go back and try another sandwich and bowl of soup. And the cool thing is that it appears even when I've tried all the menu items, I won't run out of new options because Cafe Zupas rotates new soups into the menu. For example, right now they're featuring a French Onion soup in addition to their normal menu items and have a Beef and Mushroom Goulash and Irish Stew "coming soon."
Cafe Zupas is a new chain that started in Utah. It currently has a total of nine locations from Layton to Provo. Next time you want to eat out, find the location nearest you at their website www.zupas.com and prepare yourself for a gustatory delight.