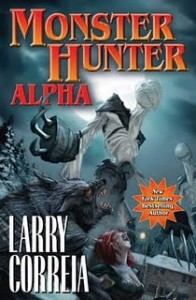 I'm going to be purchasing MONSTER HUNTER ALPHA by Larry Correia on Monday.  Here's why.
Reason #1: Correia delivers the goods
I read MONSTER HUNTER INTERNATIONAL.  I ended my review of MHI saying Correia was going to be a writer to watch.  Well, for those of you who haven't been watching, not only did Correia  sell tons of copies of MHI, he also made the New York Times best seller list with his second book AND sold TV rights to the MHI series to a major TV producer.
Why would his books generate such a response? Because they're so dang fun. That's why. And Correia isn't just a flash in the pan one-trick pony. Far from it, as demonstrated by Reason #2 below.
I told you in my review of INTERNATIONAL that I don't read books that don't suck me in. I don't give them 70 pages to warm up and get going.  I don't care who wrote the book. I don't care if the author is a big lug with guns. I don't care if he has status and money or friends who can put the hurt on me. I don't care if the author is my girl's godmother and brings me Walker Shortbread Rounds (which are evil cookies that exert mind control). If the book bores me, I put it down. That doesn't mean that books which bore me aren't wonderful. Sales and numerous reader exclamations of delight and satisfaction attest to the the fact that many are. It's just that I'm a reader of little patience. I love it when a book starts with a bang and keeps me hooked. And Correia's books do exactly that.   
Reason #2: Correia's getting better
I read MONSTER HUNTER VENDETTA recently.  I should have reviewed it, but I've been so freaking busy I barely have time to shave or appear in public because I've begun to look like the Unabomber. But here's the deal with VENDETTA–it's better than INTERNATIONAL.  
Yes. Better.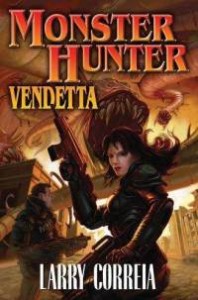 Well, expect for maybe the opening paragraphs. The quote and first few paragraps that opened INTERNATIONAL are hard to beat. This doesn't mean the opening of VENDETTA is weak. Heck, no. VENDETTA trounces the openings of most novels and steals their lunch. And then it continues to delight all the rest of the way through. It's just that it didn't quite deliver the same jolt as MHI. But 500 or 503 watts, what's the difference?
So with VENDETTA, are there guns? Yes.
Monsters? Check.
Action? There's action galore.
It appeals to my testosterone right off the bat (even though Larry reports that a good number of his readers are women). But there are guns, monsters, and action in a lot of stories that stink. What Correia does is not only give us great action, but he also gives us wonderful new situations.  For example, you will never see the scene set in the ghetto of Birmingham, Alabama that appears here in any other book. Never. It's a Correia original. But even more important than great new situations, is that he gives us a first-person narrator who is delightful to be around. I'm talking about Owen Zavasta Pitt, the accountant monster hunter. His responses to the situations he gets in just make me laugh, as do a number of the responses of the other characters. My only wish is that Correia would tone down some of his language just a bit.  It is possible even when writing about military characters.  But you can't have everything, and Owen's such a loveable lug, I overlook it.  Hey, maybe Milo will help him out on that as the series progresses.
Furthermore, Pitt isn't the only character who I find delightful or interesting.  In VENDETTA there is also Holly, Agent Franks, and G-Nome, one of Correia's best yet. Of course, there's also the Doctors Nelson, the former hunter Carlos, Melvin the troll, and Earl Harbinger who have their own moments to shine. As do Owen's dad and brother. And Dorcas, MHI's secretary with the plastic leg. Heck, I even like Susan.
So how many is that–eleven already? How many wonderful characters do most authors give you in one book? Two or three?
And that's one of the things that is is better with VENDETTA than INTERNATIONAL.  In INTERNATIONAL, as good as it was, some of the characters just didn't get the stage time they needed to shine. But here Correia declutters his scenes so we're not trying to focus on too many people. The result is that those we do focus on each have the their moments and lines. The other thing I noticed was that Correia deftly orients us to each new situation. For those of you who are writers, let me suggest you look at Correia's technique in VENDETTA for introducing characters and settings. 
Another good thing: he wipes out a Girls Gone Wild camera crew in the first chapter. Anyone who does that gets a few points in my book.
VENDETTA doesn't attempt to become bigger in scope than INTERNATIONAL (as if it could). Instead, it feels like another episode in a great tale. And I'm happy with that because it promises more to come. I'm back with characters I like and situations that make me laugh and magic crap that evokes some oohs and aahs and every now and again makes me wish I'd come up with it for my own use.
Finally, VENDETTA leavens the humor and action with a couple of poignant moments. I'm thinking of a chapter with Carlos, another scene with Owen's dad, and one with G-Nome.
As you can see, VENDETTA'S packed with goodness.
With ALPHA, I'm expecting to hook up with at least one of the gang for more exploits and laffs. Will Correia get even better? I have no doubt he will. But who cares–he's already delivering great stuff.  
Reason #3 Did I mention that Correia makes me laugh?
Just didn't want to forget that. Furthermore, I swear I read somewhere that laughter increases your health and makes you live longer. So not only am I getting a great read, I'm extending my days upon the land.
Reason #4 Monday is a special day
Not any old Monday. But the 25th of July.
Why is this special?
Because it's the first day of the first week of the book's release.
Now I know I'm going to buy this book sometime. But buying it in the first week lets me do something I might not be able to do at some other time.
Because Correia has given me hours of pleasure, I figure I can tip him for his good service by helping him make the best seller list again.  And a book has the best chance of making that list in the first week of release. (For those of you interested in how that works, Larry gives a good explaination here.) Making a best seller list does all sorts of good things for an author, and, as a result, that author's readers.
So Monday's my day to leave the tip on the table and tell the owner to keep up the good work.
The New York Times list is a good one. But I'd like to see him on the USA Today list, which measures sales so much better than any other list out there. My fingers are crossed.
For those of you who are Correia fans or who have been putting off giving his stuff a go, now's the time to either get MHI and begin the series or ALPHA and continue the delight.
EDIT: After I posted, I couldn't wait and just went ahead and processed my order. Pre-orders will count in that first week, and after writing this I couldn't resist. Looking forward to more hours of laughter and some great characters.