Yeah, I know–I should be writing. But I promised you two wonderful recipes from my experiments with the Cook's Country June/July 2011 issue. There were a whole bunch of other recipes we tried that worked out well, but these were our favorites and good enough to get me to subscribe.
By the way, I found these recipes were not only tasty, but they were great to do on a date (in this case, with my daughters). Why just eat when you can enjoy the time together as well?  Besides, two people working together make these recipes a breeze.
Chocolate Eclair Cake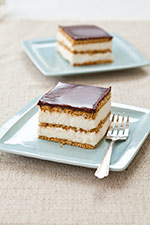 Chocolate, vanilla pudding, whipped cream, and graham crackers–baby, is this good!  I found I liked the cake best with HALF of the pudding and whip cream mixture. You'll see the half amounts in parentheses. That way I got a taste of the pudding, graham, and ganache in every bite. The directions make it look like there's a lot of steps, but they all go quickly.
INGREDIENTS
Pudding Mixture
1 ¼ C sugar (1/2 + 1/8 C)
6 T cornstarch (3 T)
1 tsp salt (1/2 tsp)
5 C whole milk (2.5 C)
4 T unsalted butter cut into chunks (2 T)
5 tsp vanilla (2.5 tsp)
 Whip Cream Mixture
2 T water (1 T)
1 ¼  tsp unflavored gelatin (1/2 + 1/8 tsp)
2 C heavy cream (1 + ¼ +1/8 C)
Graham Crackers
14 ounces of Nabisco Honey Maid graham crackers
Ganache topping
¾ C  heavy cream
1 C semisweet chocolate chips
5 T light corn syrup
 DIRECTIONS
 Make Pudding
Combine sugar, cornstarch, and salt in large saucepan
Wisk milk into sugar mixture and bring to boil over medium-high heat, scraping bottom with rubber spatula.
Immediately reduce heat to medium-low and continue to cook and scrape until thick bubbles appear on surface, about 4-6 minutes
Take off heat and wisk in butter and vanilla.
Transfer hot pudding to large bowl and place plastic wrap directly on surface.
Refrigerate for about 2 hours until cool.
 Make Whip Cream Mixture
Stir water and gelatin together and let sit for 5 minutes.
Microwave until gelatin dissolves and mixture gets bubbly around the edges, 15-30 seconds
Whip 2 cups of cream on medium-low for about 1 minute, until foamy.
Increase to high and whip for 2 minutes, until soft peaks form
Add gelatin mixture and whip for 1 minute, until stiff peaks form
 Combine Pudding and Whip Cream Mixture
Wisk one-third of whipped cream into chilled pudding.
Fold remaining whipped cream into pudding.
 Layer Pudding Whip Cream Mixture with Graham Crackers
Line bottom of 13 x 9 inch baking dish with a layer of graham crackers. Break and cut crackers if you have to.
Top the bottom layer of crackers with ½ of the pudding whip cream mixture
Place another layer of crackers over the pudding.
Top that layer with the rest of the pudding whip cream mixture
Place one last layer of crackers over the second layer of pudding whip cream mixture
 Make Ganache and Pour Over
Microwave chocolate chips, ¾ C cream, and corn syrup in bowl 1-2 minutes, stirring occasionally.
Cool for 10 minutes to room temperature
Cover top layer of graham crackers with glaze
Refrigerate cake for 6 – 24 hours. Then serve.
Dill Potato Salad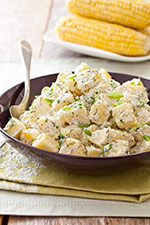 A potato salad with a perfect dill zing. Everybody in the Brown household loved this. Super wife especially loved it because she does not like eggs. Please note that there's fresh dill used in all three parts. So when you shop, make sure you get enough for all three.
 INGREDIENTS
 Dill Vinegar
¼ C white wine vinegar
1 T minced fresh dill
 Boiling Mixture
1 disposable coffee filter
½ C coarsely chopped dill leaves and stems
3 pounds Yukon Gold potatoes (don't get any other type), peeled and cut into ¾ inch pieces
1 T salt
 Dressing
½ C mayonnaise
¼ C sour cream
1 T Dijon mustard
½ tsp salt
¼ tsp pepper
2 T minced fresh dill
3 scallions (green onions) green parts only sliced thin
 DIRECTIONS
 Make Dill Vinegar
Combine vinegar and 1 T minced dill in bowl and microwave until steaming, 30-60 seconds
Cool at room temperature for 15-20 minutes
 Boil Potatoes
Place chopped dill inside disposable coffee filter and time with thread.
Put potatoes, dill sachet, and salt into large pot with enough water to cover the potatoes by 1 inch.
Bring to boil on high heat then reduce heat to medium and simmer until potatoes are tender, 10 minutes
 Cool and Soak Potatoes
Drain potatoes thoroughly and throw away dill sachet
Drizzle 2 T of the dill vinegar over hot potatoes and gently toss until evenly coated
Refrigerate until cooled, 30 minutes. This allows the Yukon potatoes to suck up the dill vinegar.
 Make dressing and Combine with Potatoes
Wisk mayonnaise, sour cream, remaining dill vinegar, mustard, salt, and pepper until smooth
Add dressing to cooled potatoes
Stir in scallions and 2 T minced dill.
Cover and refrigerate to let flavors meld, 30 minutes.
Serve with salt and pepper to taste.
 EDIT 9/7: Somehow I deleted four of the dressing ingredients when I posted. They've been added back 🙂