Cranford
For those of you who love stories like Pride and Prejudice, have I got a TV mini-series for you—the BBC's five-part Cranford.
The series is set in the 1840's in England in the fictional village in North West England and focuses primarily on a handful of the town's single middle-class ladies who are forced to deal with lace-eating cats, marriage prospects, and prank valentines, as well as death, loss, and a changing culture. There are also two stories about the male inhabitants woven in as well—one about a new doctor and another about a young boy of the lower class who has a chance for something better.
I will confess that when I saw this arrive in the Netflix envelope, I wasn't at all excited. The cover's too cold–all blue with a bunch of sour-looking women. In fact, I decided not to watch it. But the laughter of my wife and daughters lured me back upstairs to the TV, where it took about seven seconds for me to revise my earlier decision. The characters are delightful. In fact, some of their lines are such a joy to listen to, we had to rewind many parts to watch them again and again.
The series is based on three novels by Elizabeth Gaskell, a British novelist, which were published between 1849 and 1858. The sets made us feel as if we where there. For example, one of the things I noticed was the lighting. Incandescent bulbs weren't invented until the late 1800's and took many more years to find their way into most houses. So the directors, instead of making it feel all Hollywood, seemed to rely heavily on the light at hand, as those inhabitants would have. When a scene was in a house, it felt as if they were only using the natural light coming in the windows or the candles being burned. Of course, this is just one of the many details that made this series an excellent period piece.  
The best news of all is that I just found out there's more–a two-part special called Return to Cranford. I can't wait until it comes in the mail. Don't let the cover fool you. This is a wonderful mini-series. It has poignant and sad moments, but is also full of humor and wit.  And the ending is perfect.   
Kroger's Balsamic Vinaigrette Dressing
I love balsamic vinegar and oil on bread. But I never think to make it. And I never thought of what else it might go with. That was until a relative left behind a bottle of Kroger brand Balsamic Vinaigrette Dressing.
I just happened have a homemade bagel handy, squirted out a bit onto a plate and dipped.  Lovely.  So then I tried it on salad and even splashed some on tomato or turkey sandwiches. It's delicious. Only 80 calories for a whole tablespoon. In fact, it was so good we bought four more bottles because I don't want to run out.
Kroger, of course, is a grocery conglomerate. In Utah, it owns the Smith's, and that's where you'll find this delight.
Nebo Grotto Falls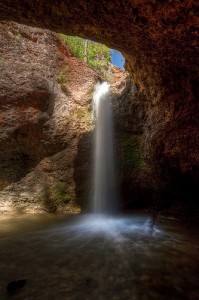 The mountains and canyons of Utah are literally desert oases. That's where our clear streams run, the forests grow, and the wildlife congregates. In the summer, the canyons are a refreshing source for cooling winds. All this meant that, as I grew up, "forest" and "refreshing" became intertwined in my mind. Only when we moved to Ohio did I learn that some forests can also be muggy and hot and not at all refreshing to a desert boy perishing in the humidity.
Because I love Utah's canyons so much, we hike and walk them all throughout the summer.  We recently went down to enjoy the Stadium of Fire and the heat (yes, I love dry heat) in Provo. However, we didn't just hang out in the city. We made time to hike a few trails in the surrounding canyons.
We love Rock Canyon (just above the Mormon temple in Provo), Hobble Creek Canyon (Springville), as well as Mapleton and Santaquin canyons.  However, there's another special place that you'll want to visit should you find yourself in the Provo area. It's a short little hike just off of S Canyon Road (also known as Nebo Loop Road) which runs from Payson south through the Mt Nebo Wilderness area to Highway 132.
The trail head is just a few miles into the canyon south of Payson and is marked with a simple sign that says "Grotto." There's a little bit of parking on the side of the road. The hike is 0.6 miles along a wooded stream.  The grotto itself is more than worth it.  You can find directions here: http://www.utah.com/thingtodo27245.htm