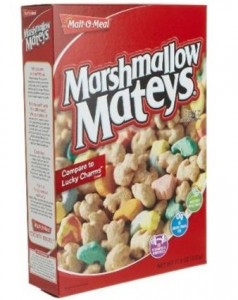 Back in 2011 I wrote a post titled "Since when did young adult fiction become the cure for cancer?"  It was a response to all the YASaves hysteria. The main point of my amazing post (grin) was that the people complaining about some YA content wanted not to ban books, but to simply have a way to more easily evaluate if they wanted to buy a particular book in the first place.
They want to avoid purchasing what they thought was a box of Marshmallow Mateys only to open it and find a bunch of bicycle sprockets.
Last year I decided to work on a solution. I have some ideas. But before I get ahead of myself and build something, I want to really understand if it's a problem worth solving. I want to chat with others who do care about content to see what aspects of this are important to them and what they're doing now to find this information.
So, if you wish books had ratings for sex, violence, and language, then I want to talk to you. It will take about 20 minutes. If you're open to chatting, leave a comment, or click Contact above and fill in the form.
Because I live up in the middle of nowhere, we'll have to chat via a web meeting. But never fear: I'll host that. All you'll have to do is show up and answer my questions 🙂