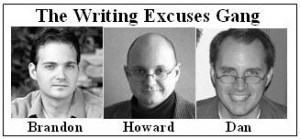 Here's the second episode I recorded with the Writing Excuses guys.
In the first podcast we talked about putting and not putting ourselves in our writing and making characters who don't all sound like the author. In this one, we talked about how to not repeat ourselves in ways that make the reader feel like they're getting the same old same old.
As usual, the guys had some great insights. Check it out: How to Not Repeat Yourself.