After discussions with my agent and a few others, I've decided NOT to shop BAD PENNY to New York publishers. In fact, I've decided I'm not going to be shopping anything to NY for the next 12 – 18 months.
My agent was certainly willing to take the property out, but given the average expected advance for thrillers ($15-20k per book; maybe up to $100k for three books) and the terms that NY currently wants, I thought that it might be worth it to try to build something on my own.
I do not hold the illusions some do about indie publishing (I probably hold others). For example, I know quite a few authors who have published indie and are selling very low numbers each month–single digits and teens. Of course, I know others, a smaller portion, who are selling just fine.
But then what's the bar? How many copies do I have to sell on my own over a three to five year period to match what NY can do for me via brick and mortar?
Let's look at that from a revenue and a unit perspective.
The average advance for a fantasy, according to Tobias Buckell's survey, is about $7,000 for a new author. $12,000 for an established author. We saw the numbers I gathered for thrillers above.
So lets see how many copies I'd have to sell indie style to earn as much as I'd get in an advance from New York.  Why not select a higher number? Well, my understanding is that most books don't earn out their advance. That doesn't mean the publisher doesn't make money; just that a publisher's profit isn't dependent on an author earning out.
So what are the numbers? Well, here are the numbers for NY. Down the first column you'll see the different formats. Across the rows you'll see how many units I'd have to sell to make the advance specified at the top. And how many units I'd have to sell if I wanted to spread the total over three years.

Okay, and here's what I'd have to sell if I went indie to make the same numbers. I put in the trade paperback format for both 600 and 400 pages because that's about how big SERVANT and BAD PENNY are going to be.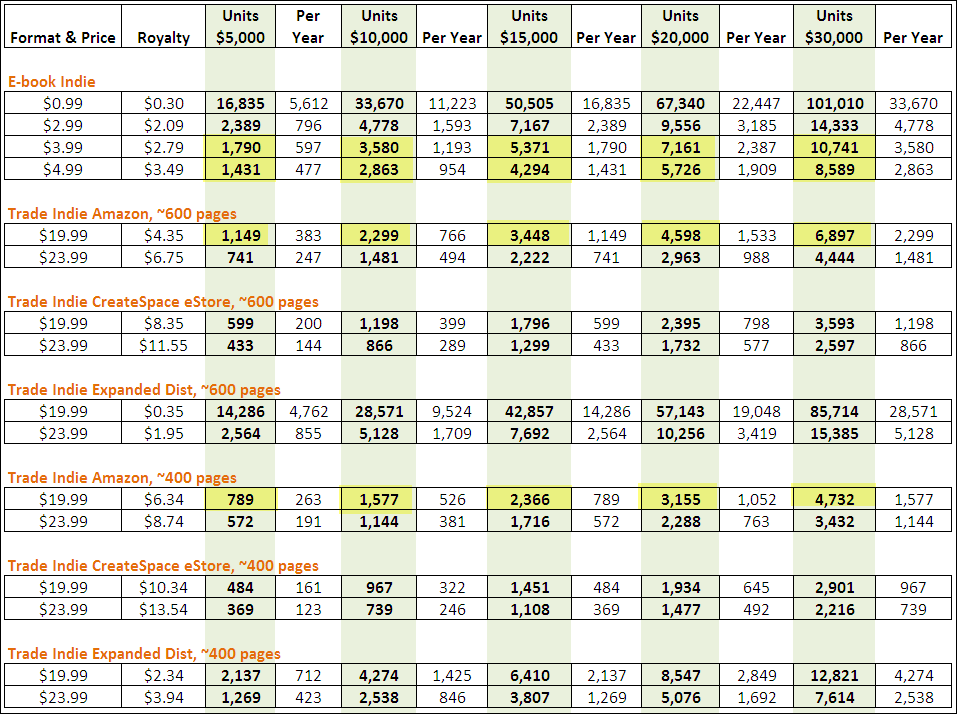 What does this tell me?
It tells me I have to sell a heck of a lot more units with NY at a much higher price than I do indie.  It tells me that a $5,000 advance is not even close to being worth the control I lose with NY.  And if it's true that most books don't earn out, then it tells me the units that are being sold by NY on the average book.
Back in 2009 I shared this: How Many Copies Do Average Authors Sell? This was from an editor at Tor Books. Seems like my numbers are in the ball park.
It's true that NY could get me into brick and mortar stores. But if the book gets shelved spine out in the back, how many people will discover it?
It's true that NY produces some spectacular hits. I looked at the USA Today bestseller list yesterday and it appears only about 10% of the books there this week are indies. But I can't bank on becoming a NY wonder. The vast majority of NY published books DON'T make the bestseller lists.
Finally, even if I sold BAD PENNY today, it still wouldn't hit shelves for probably 12-18 months from now. And then it would only stay on the shelves for 12-18 weeks. Going indie, I will have it up by September. And it will stay. For years and years and years.
There's no guarantee of success either way. But the indie numbers look good to me. We'll see how it goes.