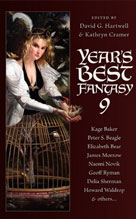 I loves me golem story. It was such a joy to write. Obviously, two editors found it a joy to read as well. So it was just reprinted in Year's Best Fantasy 9 edited by David Hartwell and Kathryn Cramer and published by Tor.com.
The good thing is that there is a whole boatload of other great stories in this anthology including one of my favorites, Kij Johnson's "26 Monkeys and the Abyss."
Here's the Amazon link.