There are a number of great science fiction and fantasy authors who feel that the Hugo awards have become irrelevant because the folks voting–only those who are members of Worldcon–do not represent science fiction and fantasy fandom.
Brad Torgersen describes it with this Venn diagram.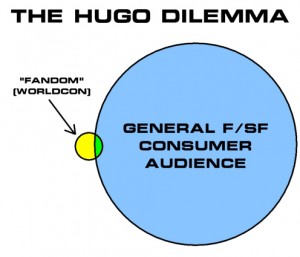 But this is not only about the fact that the voting block is not a statistically valid sample of fandom. It's also a campaign against what Larry, Brad, and many others see as a politically correct shibboleth in parts of the publishing community that they feel short shrifts authors who do not toe the liberal political line.
Two years ago, Larry Correia decided to give this issue a lot of attention. He did this by asking his fans to purchase a Worldcon membership and then consider a list of authors he thought were very good but didn't necessarily reflect the prevailing values of the traditional Worldcon audience. Last year he repeated the effort and created a shirt-storm (I like that image so much better than the one that includes flying poops). This year, Brad is carrying the banner. Read Larry's post Sad Puppies 3: The Slatening? to see this year's slate of alternative folks and a summary of why these guys are doing this.
I'm friends with Larry and Brad. And I do not like the Should Police coming out and telling me I should or must include more X in my stories and less of Y, whatever that X and Y may be.
But, I'm wondering if storming the Hugos is the right way to do this.
Yes, the Hugo award has a lot of brand equity. But must the Hugo represent fandom?
Is Sad Puppies attempting to storm the castle and force upon Worldcon something Worldcon members don't care for?
Let's go back to the original issue that Sad Puppies is trying to shine a light on.
Reader Kim wants more of X and less of Y in his or her books.
But instead of saying, "Geez, where in the crap do I find books with more of X and less of Y?"
Instead of trying to get with a bunch of folks and saying to suppliers, "Hey if someone would write more of X and less of Y, we'd buy it! Look at this market that's dying for product!"
Instead of developing the More X and Less Y website dedicated to helping readers who like that find their books.
Instead of that, Kim says, "Gosh darn it! All books should have more X and less of Y. And if they don't, they're, they're, they're bad, and bad for you, and probably make kids smoke! And we should make all stories conform."
And the mandated "should" is where things get all tangled up. That should is what Sad Puppies is speaking out against.
So instead of trying to stomp out differing opinions or requiring all authors to write stories with some allotted amount of XY content, would it not be more productive to simply work with our wonderful free market to try to create a new silk road (or pave the existing one fit only for camels) that connects readers who like XY stories with authors who are happy to write them?
I think it would.
At the same time, this same argument could be applied to the Hugos. Instead of trying to force Worldcon members to change their ways, why not let them like the stories they like, but create a fresh new award that seeks a broader base? It would require work to build its brand equity, but maybe that's a more effective long-term strategy.
It's kind of like the New York Times best seller list. There are many problems with that list, including, but not limited to, the fact that it can be gamed. But instead of trying to change it, USA Today came up with something much better. Yes, "NY Times Best Seller!" still has huge brand equity. But USA Today is gaining on it. And as the market learns more and more about the difference between the lists, USA Today's will only grow in luster.
I suppose it's true that you sometimes do indeed need to storm the castle. And maybe this one needed some barbarians to show up and sack it. But I wonder if it's time to pivot. I'm wondering if in this case the best long-term strategy wouldn't be to simply build an armored division of M1-Abrams with air and sea support and make the castle irrelevant. Maybe this is something to think about for next year.