Real crime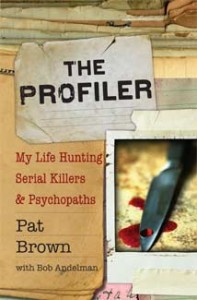 It's 1990. You're a housewife, homeschooling your children, and renting a room upstairs to a young man to make ends meet. There are a few odd things about the young man, but you overlook them. Then one day a woman is strangled on a jogging path near your home, and your first thought is that the young man living in your house has something to do with it.
What do you do?
Pat Brown found herself in this exact situation. She voiced her suspicions to her husband, but it was all too farfetched. However, the nagging thought wouldn't let her go, and she soon uncovered evidence that made the young man a strong suspect.
She took the evidence to the police, but they dismissed her as a bored housewife with an overactive imagination. She evicted the young man, but it would be six years before the authorities would finally bring him in for questioning.
Dismayed and frustrated, Brown started down a path that would lead to her become a professional criminal profiler, assisting police departments and victims' families by analyzing both physical and behavioral evidence to make the most scientific determination possible about who committed a crime.
In The Profiler: My Life Hunting Serial Killers and Psychopaths Brown tells about what happened with that young man and her journey to becoming a profiler, then she opens a number of other cases she's worked on, giving the reader a behind-the-scenes look at how profilers work, and how their methods bring new investigative avenues to light. She also brings home very clearly just how many murders go unsolved. It's an absolutely fascinating read.
Milk that doesn't moo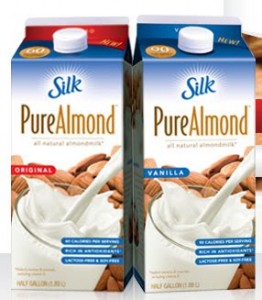 I used to think soy milk was either for the lactose intolerant or hippies. And so I always avoided that milk section of the grocery store. But, having embarked on a new way of eating that I'll explain in another column, I was induced to approach the alternative milk shelves. I purchased a carton of soy milk, but then I saw cartons of something even more strange: almond milk.
Puzzling. I knew, of course, that almonds did not have udders. So nobody was out there hooking them up to tiny milking machines. And they were nuts, so it's not like you can squeeze them to make them release their tasty juices. Instead, I learned that almond milk is made by finely grinding almonds together with water. I thought this was something new, invented perhaps by a Californian who'd had too much weed, but it appears many Medieval European recipes called for almond milk, and it has always been a popular beverage in the Middle East. So almond milk has been around for some time.
But I didn't know any of this. I just knew I loved almonds and that they provide all sorts of goodies for the human body. Besides, I have a hard time resisting adventures. So along with the soy, I picked up a carton of Silk's PureAlmond regular, vanilla, and chocolate milk.
The soy was okay, but it left a weird zingy taste in my mouth. Furthermore, soy contains estrogen. I'm sure it's a fine product, but I live with four daughters and don't need any more estrogen. And I certainly don't need it mutating me in any, um, feminine ways. So I put the soy aside and gave the almond milk a go.
It was delicious. I love the vanilla and regular flavors the best. In fact, I like it so much I only drink cow's milk when the last drop of almond milk is gone, and I try to make sure that never happens. Some might worry that I'll deplete my calcium stores, but not so. Almond milk actually has MORE calcium than cow's milk along with vitamin D that allows the body to absorb the mineral. It also has 50% of the RDA of vitamin E, of which cow's milk has none. But that's all technical vitaminy stuff. It wouldn't matter if the milk itself didn't taste so dang good.
The American breakfast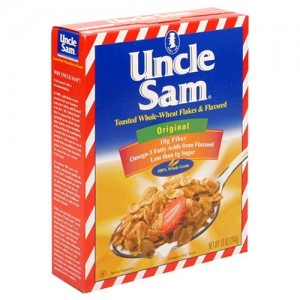 I love cereal. We have our standard favorites as a family, but I also like to get a box of something new when we shop. I recently saw, perched up on the top shelf at Wal-Mart, boxes of  Uncle Sam.
What the heck? Was this a Tea Party product? I know Utah is conservative, but come on. And what kind of nut sings "The Stars and Stripes" for breakfast?
Well, I might.
So I promptly snagged a box and read that it's been around since 1908, thus making it politically neutral. Then I read the ingredients. It's a simple cereal made of wheat berries that are steamed, rolled, and toasted to provide killer whole grain nutrition. Those wheat flakes are then mixed with flax seeds (omega 3's anyone?). That's it.
I purchased a box, felt patriotic, and then gave it a try when we got home. I've been buying it regularly ever since. It's slammed with 10 grams of fiber and 7 grams of protein, and goes great with Silk's vanilla almond milk and a piece of fruit.