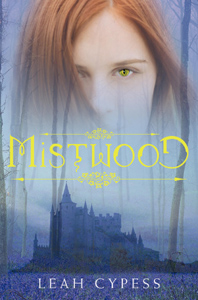 Leah Cypess says, "After selling my first story (Temple of Stone) while in high school, I gave in to my mother's importuning to be practical and majored in biology at Brooklyn College. I then went to Columbia Law School and practiced law for almost two years at Debevoise & Plimpton LLP, a large law firm in New York City. I kept writing and submitting in my spare time, and finally, a mere 15 years after my first short story acceptance, I sold my first novel, Mistwood, to Greenwillow Books (HarperCollins)."
Leah lives in Brookline, Massachusetts (right outside of Boston) with her husband Aaron, a researcher and doctor at the Joslin Diabetes Center, and their two daughters. She majored in biology, minored in journalism, went to law school, worked as a lawyer, and has just started to learn about hawking and hunting. She's published a number of short stories, which are all available for free on her website.
I just had the opportunity to interview Leah about her writing process and books. Enjoy!
*
JB: MISTWOOD, published by HarperCollins in April, 2010, is your debut novel. But is it the first you've written?
LC: Most definitely not. I wrote, revised, and submitted four manuscripts before Mistwood. (Technically, five; but I don't count the first one, because it wasn't very good, and I didn't know what I was doing with the submissions process either. I was fifteen years old.)  In fact, after getting the offer from HarperCollins, I acquired an agent, who asked me to send him a list of my previous manuscripts and their submission histories.  The list was sixteen pages long.
JB: Holy cow, five novels and 16 pages of submission history. That's a lot of dedication. And faith in the face of rejection. I'm intrigued. How did the sale of this novel come about? Was it just another submission to yet another editor or did you have some connection? What was different with this book?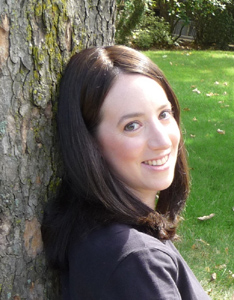 LC: Both the faith and the sale were helped by the fact that I could see incremental improvements. My first novel received mostly form rejection letters, a couple of letters inviting me to submit further, and one revision request. My second received a lot of personal rejection letters, many more requests from various editors to submit future works, and one two-page revision request. The third made it to the acquisition committee at two houses. So I could tell I was getting closer, though it was still pretty dispiriting to think I might never make that final leap into publication. (After Novel #3 was turned down by both acquisition committees, even though it was being championed by senior editors in both cases, I had a couple of bad days.)
 In the end, I think what was different about Mistwood was mostly luck.
It wasn't my most perfect manuscript – there was a lot of revising to do after it was accepted! – but it was the one that resonated with the right editor at the right time. This was an editor who had asked me to submit future books after rejecting the query for Book #3, then requested Book #4 and written me a detailed and regretful email about why she didn't feel it was right for her. By the time I sent her the query for Mistwood, she was obviously confident enough in my abilities to request that I email her the full manuscript, and to read it right away. After all those years, the acceptance for Mistwood came just a few months after I started submitting it.
JB: I'm betting your persistence and work made some of that luck. Work seems to be a little bit of magic all by itself and has been used by a lot of other authors I know. Hum (grin). So let's talk about the book. You should know you made The Top 200 YA Authors list I just published on my site. It ranks YA authors by average number of readers per book. And while the list can't purport to be anything but a reflection of the tastes of the area's library patrons, I think it's probably representative of what's going on in my region. So congrats! The book starts right off with a bang. It's about a shape shifter. I know shape shifters have been around forever, but most fantasy these days seems to be about vampires and werewolves. Tell us a little bit about the core idea of the novel and its genesis.
LC:  That's awesome that I'm on the Top 200 YA Authors list – thanks for letting me know!
I've been reading fantasy/science-fiction "forever" (I cut my teeth on the Edgar Rice Burroughs books my father had stored in our garage), so shapeshifters are just as familiar to me as vampires and werewolves.
The core idea of the novel is that of an inhuman creature grappling with the fact that she seems to be turning human — while trying to figure out why, exactly, this has happened to her, and who and what she truly is. (And, of course, fending off assassins and dealing with palace intrigue.) That idea developed over the course of writing the novel – I started out with a scene of men riding into a misty forest in search of the magical creature who lived there, with no clear idea of what that creature was or why they wanted her. Then I kind of made the rest up as I went along. (This writing process is one of the reasons the novel was revised nine times before being published!)
JB: I really liked the beginning. No wonder you felt compelled to follow the idea. And nine revisions! It sounds like you use drafts, as opposed to outlines or other tools, to help you discover your stories. Were these big revisions, almost complete rewrites?
LC: Thanks! I'm glad you liked it
I usually don't rewrite scenes completely – most of my editing of already-written material consists more of snipping unnecessary parts and adding little bits and pieces. (Especially of description, which I tend to leave out entirely in the first draft.) But I do a lot of moving scenes around, deleting some scenes, and writing some new ones.
Though I don't use an outline when I first write, I usually create one during the revision process so I can keep track of the jigsaw-puzzle my manuscript has become.
JB: That's interesting. Well, I have just one more question for you. Tell us what's coming next.
LC: What's next is NIGHTSPELL, a stand-alone companion novel to MISTWOOD, which will be published in May 2011. It's about a country where an ancient spell allows murder victims to return as ghosts to seek vengeance on their killers… and if they don't manage that, they remain ghosts forever. After a couple of hundreds of years of this, the kingdom – Ghostland – has evolved into a place where the living and the dead co-exist, albeit uneasily. My main character, Darri, is a foreigner to Ghostland; she is a barbarian princess who abhors the idea of ghosts and is only there to rescue her younger sister Callie, who was sent as a hostage four years ago. But Callie has changed in those four years, and now has secrets of her own.  In her quest to save her sister from herself, Darri will ultimately face a decision that will force her to reexamine beliefs she has never before questioned – and lead her into the heart of a conspiracy that threatens the balance of power between the living and the dead.
JB: Oh my bleeping heck. That just gave me a case of massive author envy. I was thinking about writing a ghost story just yesterday and thought, "naw, ghosts are all played out." Curse you, Cypess!
Sheesh, talk about a parting shot. Well, I would ask about the next book, seeing NIGHTSPELL must be ready to go if it's coming out in May, but I can only stand so much punishment. The good news, if I put my reader hat on, is that it looks like I get to put a tickler in my Outlook for this May. In the meantime, I going to suggest to my readers to give MISTWOOD a go. Thanks, Leah, for your time. I enjoyed the interview.
LC: Thanks, John!
*
John sez: folks, I think I'm going to make interviews a regular feature. I just loved finding out more about Leah. It's also interesting to see just how much work she's put into this. I know that a good number of authors sell their first or second novel (see the Hines stats in the on writing section), but for a good number of others it's later novels that sell. In either case, I think it's clear that good old fashioned work makes up a big part of the secret sauce.
Ah, that was fun. But, dang it, I should have asked her about her lawyer and biology background. Next time.
LINKS
The first three chapters of Mistwood